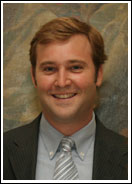 E. Loren Kirkpatrick joined Texas Realty Partners, LLC. (TRP) to manage TRP and partner development projects. Mr. Kirkpatrick is a licensed Texas Real Estate Broker®, a member of the Austin Board of Realtors, Texas Association of Realtors, and National Association of Realtors. Mr. Kirkpatrick can assist you in commercial or residential real estate transactions.
Previous to TRP, Mr. Kirkpatrick worked for Capital Commercial Investments under Doug Agarwal performing due diligence and financial analysis for investments totaling $100 million in suburban
Loren Kirkpatrick, Realtor
office buildings and industrial warehouse developments.
As a financial analyst with Eastbridge Holdings (formerly Asset Recovery Fund – The Shopoff Group), Mr. Kirkpatrick assisted principles, Bill Shopoff and Victor Ayad, with land entitlement developments in Southern California totaling 3,000+ acres.
Mr. Kirkpatrick received a Masters in Business Administration Executive program and a Bachelor's of Business Administration in Finance and Real Estate from the University of Texas McCombs School of Business. Mr. Kirkpatrick is an active volunteer and advisor to Dr. Steve Nichols and Professor John Doggett at the University of Texas' Idea to Product® competition and actively consults local startup and small business owners. .
Please contact E. Loren Kirkpatrick at loren@trpaustin.com or call 512-656-8521.